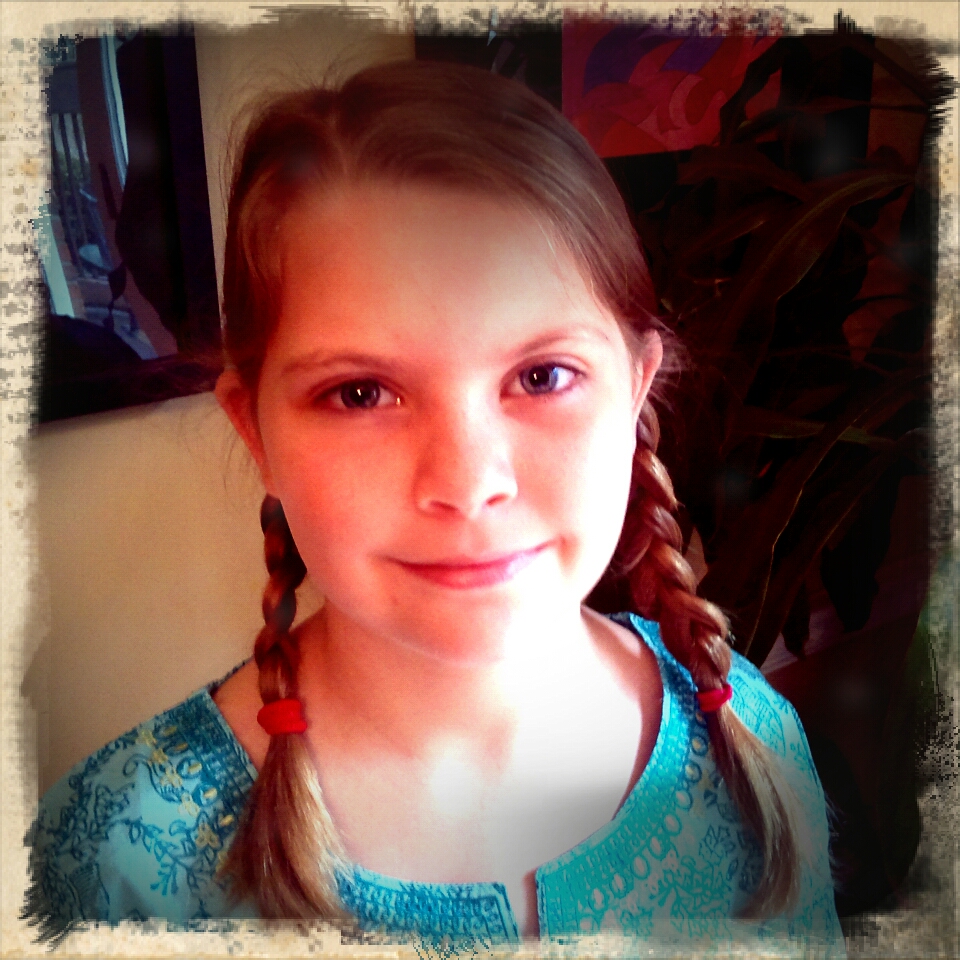 I've been struggling with something for a while that suddenly became very clear for me this week.
Several months ago — after I got past the shock of having Berns enrolled in a private school that allows him to work from home — I started getting these little nudges to do the same for Gillian. I kept batting them down for several reasons. As I worked through each of my concerns I was left with two remaining excuses to keep things status quo: we love her team at school and things weren't "bad enough" to make a change seem worth the drama.
So, as these things tend to go, the more I turned away from this intuitive nudge, the louder the signals became. I do believe in purpose and order in our universe, even when I want to pretend otherwise. I knew we were headed this way, but kept telling myself "in middle school!!" and then when even that timeline seemed to be stretching it as we watched Gillian getting more and more uncomfortable, "the end of the semester!!" So, it really came as no shock when I got the call on Friday sending her home for the 4th time in 2 months with nits in spite of endless poisonous and prescription treatments, combing, and laundry.
But I was still kind of in the stew. And then I "accidentally" rediscovered the link to Sir Ken Robinson's TEDtalk on creativity. While I don't necessarily agree that schools — in general — kill creativity. I do believe that they are a better fit for some kids than for others. In this talk Ken talks about a famous dancer and choreographer, Gillian Lynne. Yes. That's her real name and its real spelling. I've read the book he references (It's actually titled "The Element") and bawled when I read Lynne's story. It reminds me so much of two of our girls — Skye, our professional dancer, doughnut maker, and upbeat ed assistant; and her baby sister, Gillian.
I'll include Ken Robinson's 19-minute TEDtalk on Creativity and the three-paragraph excerpt that won't stop running through my head here.
And the third thing about intelligence is, it's distinct. I'm doing a new book at the moment called "Epiphany," which is based on a series of interviews with people about how they discovered their talent. I'm fascinated by how people got to be there. It's really prompted by a conversation I had with a wonderful woman who maybe most people have never heard of; she's called Gillian Lynne –have you heard of her? Some have. She's a choreographer and everybody knows her work. She did "Cats" and "Phantom of the Opera." She's wonderful. I used to be on the board of the Royal Ballet in England, as you can see. Anyway, Gillian and I had lunch one day and I said, "Gillian, how'd you get to be a dancer?" And she said it was interesting; when she was at school, she was really hopeless. And the school, in the '30s, wrote to her parents and said, "We think Gillian has a learning disorder." She couldn't concentrate; she was fidgeting. I think now they'd say she had ADHD. Wouldn't you? But this was the 1930s, and ADHD hadn't been invented at this point. It wasn't an available condition. (Laughter) People weren't aware they could have that.

Anyway, she went to see this specialist. So, this oak-paneled room, and she was there with her mother, and she was led and sat on this chair at the end, and she sat on her hands for 20 minutes while this man talked to her mother about all the problems Gillian was having at school. And at the end of it — because she was disturbing people; her homework was always late; and so on, little kid of eight — in the end, the doctor went and sat next to Gillian and said, "Gillian, I've listened to all these things that your mother's told me, and I need to speak to her privately." He said, "Wait here. We'll be back; we won't be very long," and they went and left her. But as they went out the room, he turned on the radio that was sitting on his desk. And when they got out the room, he said to her mother, "Just stand and watch her." And the minute they left the room, she said, she was on her feet, moving to the music. And they watched for a few minutes and he turned to her mother and said, "Mrs. Lynne, Gillian isn't sick; she's a dancer. Take her to a dance school."

I said, "What happened?" She said, "She did. I can't tell you how wonderful it was. We walked in this room and it was full of people like me. People who couldn't sit still. People who had to move to think." Who had to move to think. They did ballet; they did tap; they did jazz; they did modern; they did contemporary. She was eventually auditioned for the Royal Ballet School; she became a soloist; she had a wonderful career at the Royal Ballet. She eventually graduated from the Royal Ballet School and founded her own company — the Gillian Lynne Dance Company — met Andrew Lloyd Weber. She's been responsible for some of the most successful musical theater productions in history; she's given pleasure to millions; and she's a multi-millionaire. Somebody else might have put her on medication and told her to calm down.

–Sir Ken Robinson, TED 2006
I can't watch that video or read those three paragraphs without knowing, deep in my intuitive Mama soul, that Gillian needs to spend her days feeling successful and happy and dancing and creating art and writing stories and, yes, getting the core curriculum under her belt. She's spent enough time trying to hold it together and be a good girl and make it through a day only to lose it and be embarrassed by her own inability to sit still and be quiet and wait for others to catch up to what she's figured out hours or months ago.
As I've been struggling with this decision, Gillian's been making plus and minus lists all Fall as we tried to figure out what parts of her day and week are working and which ones aren't. It's narrowed down to the fact that certain people are wonderful and important to her, she wants to participate in her class' holiday program, and the rest is painful.
So, as awkward as the timing is, my husband, wasband, and I have talked it over and we've asked Gillian for her input. We've all decided it's time to enroll her in The Farm School Satellite Program so that she can catch up on what she's missed while being out of class because of the endless nit picking — both the literal kind and the more hurtful social kind — that she's encountered this Fall. She's ready to make the change and we, finally, are too.
The process is pretty simple. I'll enroll her in The Farm School, they will request her records be transferred, the local school system will want any textbooks and library books back, we will sign an "everything is in order" form at her elementary school and she'll be transferred.
Gillian had one request and I'm hoping we can make it work. She really wants to be able to go to school and see her classmates and support staff and say goodbye to everyone. The end of the school year is always excruciating for her, so I know this will be tough.
But, she's a brave, funny, kind, loving, and talented girl. She'll be fine.
I, on the other hand, may need to set a schedule to rewatch Sir Ken's video to remind myself why I'm taking this leap with her.