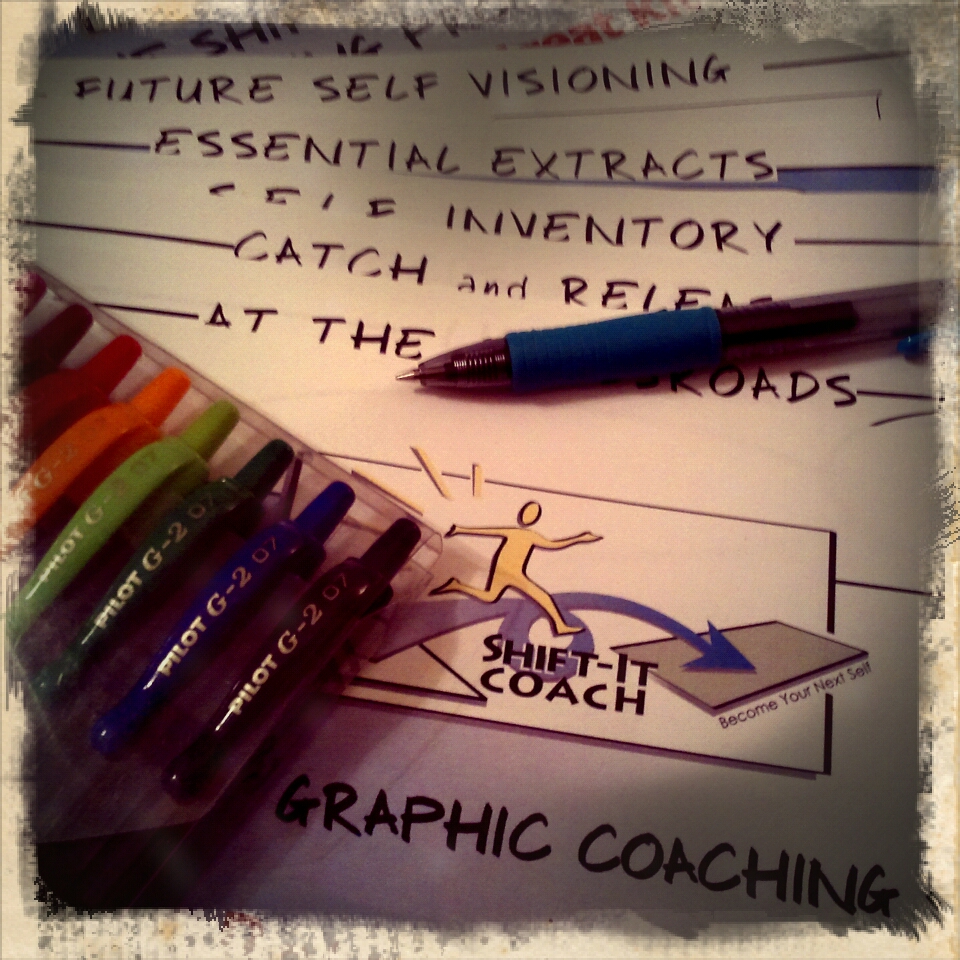 Note from Gina: As a coach and facilitator, I use a number of tools to help folks get from where they are to where they want to be. One of my very, very favorite ways to work is graphically — through PATH and other "big paper" methods as well as in smaller, table-top graphic formats. Who better to explain how this works than the smart lady who graciously taught me how to put it all together? Read on as Christina Merkley explains, in her own words, her role in bringing visuals and coaching together into one pretty powerful package.
My Journey with Graphic Coaching
By Graphic Coaching Pioneer, Christina Merkley
I was interviewed about my Graphic Coaching niche for an American T.V. show earlier in the year … called Meet the Experts (see video to right).

While Arielle Ford and I didn't have time to go into it, many people ask me how I came to have such an unusual profession … so this article outlines the evolution of Graphic Coaching and the path I took to create this my unique work and how I now teach others to do it too.
Early Background:
For many years I worked in both the United States and Canada as a 'graphic recorder' and a 'graphic facilitator', in corporate, governmental and not-for-profit settings. In a nutshell, both these roles use visuals to help groups understand each other and make collaborative decisions.
Always interested in personal growth, in 2000 I enrolled in coach training via The Coaches Training Institute and also became an Alchemical Hypnotherapist. While I enjoyed my facilitation work with companies, it required me to travel extensively (leaving little time for anything else) and to sometimes work with organizational mandates I wasn't fully aligned with. So I was on the lookout for an entrepreneurial venture that I could be morally congruent with and hopefully not travel as much (where people could come to me or we could work online).
| | |
| --- | --- |
| Doing Focus Wheel Work With a Client | In coaching and hypnotherapy school I discovered that I was very popular with the other students … they wanted to work with me because of the cool visual notes I took of their sessions instead of just the verbal way that the other coaches worked (as a professional doodler I just couldn't help but create visual summaries of the insights, ahhas and results that my clients came to). |
Spotting a market opportunity, I tried for a while to convince other visual colleagues that they should develop "Graphic Coaching" … as I was too busy to explore it more seriously. However that all changed on the morning of September 11th in 2001 as I awoke in my San Francisco home to the trauma of that infamous day. I was supposed to be in New York that week but a series of synchronicities had kept me away.
Watching lives being forever changed … I made a vow that day to reorganize my life around the things that really mattered to me. To pursue what I was most attracted to, even if it seemed unusual or strange … as life can be short.

Within a year I had moved back to my beautiful hometown of Victoria, British Columbia, Canada … and set about creating a new life and livelihood.

I continued to do graphic recording and graphic facilitation work and concurrently developed Graphic Coaching — developing my signature process and suite of 17 visual tools: The SHIFT-IT Graphic Coaching Process®.
There are so many ways that one can work visually with individuals, biz partners and couples — using different processes and formats. In the early days I mostly did strategic planning hybrids … helping people literally SEE where they had been (Life Maps), where they wanted to go (Personal Visions) and how to organize their steps to get there (Action Plans). Later my specialty honed into the area of resistance — what I call "Trouble at the Border". Pinpointing and flipping the inner blocks, self-sabotage and wonky energy that prevents people from having what they desire.
| | |
| --- | --- |
| Client Demo in Training Class | Young Client in Front of His New Vision |
My practice flourished as word got out about my innovations and the results clients were getting (careers, jobs, raises, homes, partners, children, etc). I got emails inquiring about my work — especially from other consultants, facilitators, trainers, coaches, etc who wanted to use my methods and tools themselves. So, after years of contemplating it, in 2010 I launched the first Graphic Coach Certification cohort, with wonderful coaches-in-training from around the world.
| | |
| --- | --- |
| Cynthia Miller, Certified Graphic Coach at Her Private Training Learning to Draw Icons. | Certified Graphic Coaches Allison Crow and Jennifer Voss … Developing Visual Skills. |
Today Graphic Coaching is growing nicely, aided by the growing ranks of Certified Graphic Coaches. They work in a diversity of environments and specialty areas including: executive coaching, small biz & solopreneurs development, military, grief & bereavement, first nations, autism, eating disorders, relationships, social justice & youth, human trafficking, mind/body and weight loss, abundance, health and wellness, etc.
Each cohort brings a new group of fascinating professionals who are doing great work in the world … and doing it even better by learning how to effectively use visuals to help their clients SHIFT.

While it hasn't always been easy, I'm proud that I pursued my dream and have successfully SHIFTed my own work. And that I get to help others do the same. Its exciting to see the ripple effect as the work expands internationally.

Me in Front of My SHIFT-IT Templates
How to Draw Quick People!

Graphic Coach-in-Training

Melissa Blevins
Author's Bio: Christina Merkley is The SHIFT-IT Coach. Founder of "Graphic Coaching" … Christina has pioneered the use of interactive- visuals to help individuals, couples and business partners make and manifest clear decisions about their work and lives. Based in charming Victoria, British Columbia, Canada, she maintains a thriving coaching and facilitation practice and trains other helping professionals from around the globe in her innovative ways of working.