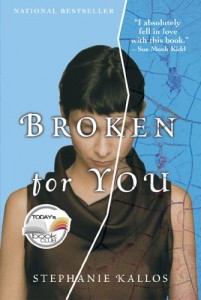 I picked up a copy of Kallos' debut novel on the dual recommendation of Ev at the Bookloft in Great Barrington, MA and Sue Monk Kidd's endorsement on the cover. This may seem insignificant, but without those two women promising I would be glad I'd read this, I wouldn't have made it through the first half. Frankly, some of the situations and literary tactics were downright silly.
Starting with Part II, Kallos found her literary legs. I was finally interested in the characters–perhaps because she introduces a couple of folks who were believable–and the story started to make more sense. She also found her hook and finally gave you the piece of information that helped explain quite a bit that was out-of-place in the first half of her novel.
Where Kallos finally made it worth reading the 360 pages was in her weaving the global hurt of the Holocaust with the private hurts of her individual characters and giving a space for cathartic exploration of roads to healing. Not unlike the significance of the art created by her characters being more about the materials than the product–Kallos' work gains its value, not from the creation of a well-executed novel, but from her exploration of themes that resonate with a searching reader.
Of course, it always helps to have a personal connection to the subject matter in a book. As luck(?) would have it, I'm sitting in my in-laws' home in the Berkshires surrounded by my Jewish father-in-law's gorgeous found-object collages. As I prepared to head out to the Bookloft this afternoon for a stack of new recommendations from Ev, this book called back to me.
I'll leave the analogies for you to discover, but will be thinking lots about histories and family of origin and chosen family and finding a way to make something beautiful out of the tatters of another chapter.