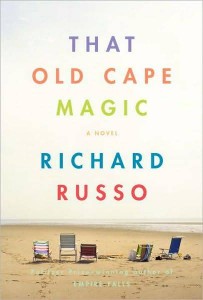 I love, love, love Richard Russo. Straight Man is an all-time favorite and worth a regular re-read. So, I pre-ordered my copy of That Old Cape Magic back in April 2010 and read it within a couple of days of it arriving.
Elements that I love:
(1) Russo is a master of character. You know these people. They live in your town. They are in your family. They are so real, they breathe.
(2) Russo is a master of dialogue. No matter what he has those real characters say, it always comes off as naturally as if he were walking around tape-recording people talking.
(3) Russo is a master of place. He takes you there. You can smell the air.
(4) Laughter through tears. My favorite.
(5) "The story tracks" as he states about other things 400 times in this book. I buy it. I really do.
(6) It has a completely satisfying ending. None of my pet peeves were set off here. Delicious.
Elements that lost it a star:
(1) The time warp thing. It makes me banana crackers to start a chapter and find out that we have skipped some time and will now learn what happened in review. The device is okay for exposition, but for moving the plot forward it is awkward and off putting. It is a personal preference–but it bothers me enough to complain!
(2) The absolutely ridiculous rehearsal dinner scene. I hate it so much that I don't want to think about it any more.
All-in-all it is a better book than most people write at their very, very best. Russo usually takes about a million years between releases, so maybe he was rushed to press in order to get his royalty check to pay for his daughters' weddings. I'll give him the benefit of the doubt.
Go ahead, read it. It's a really good book.