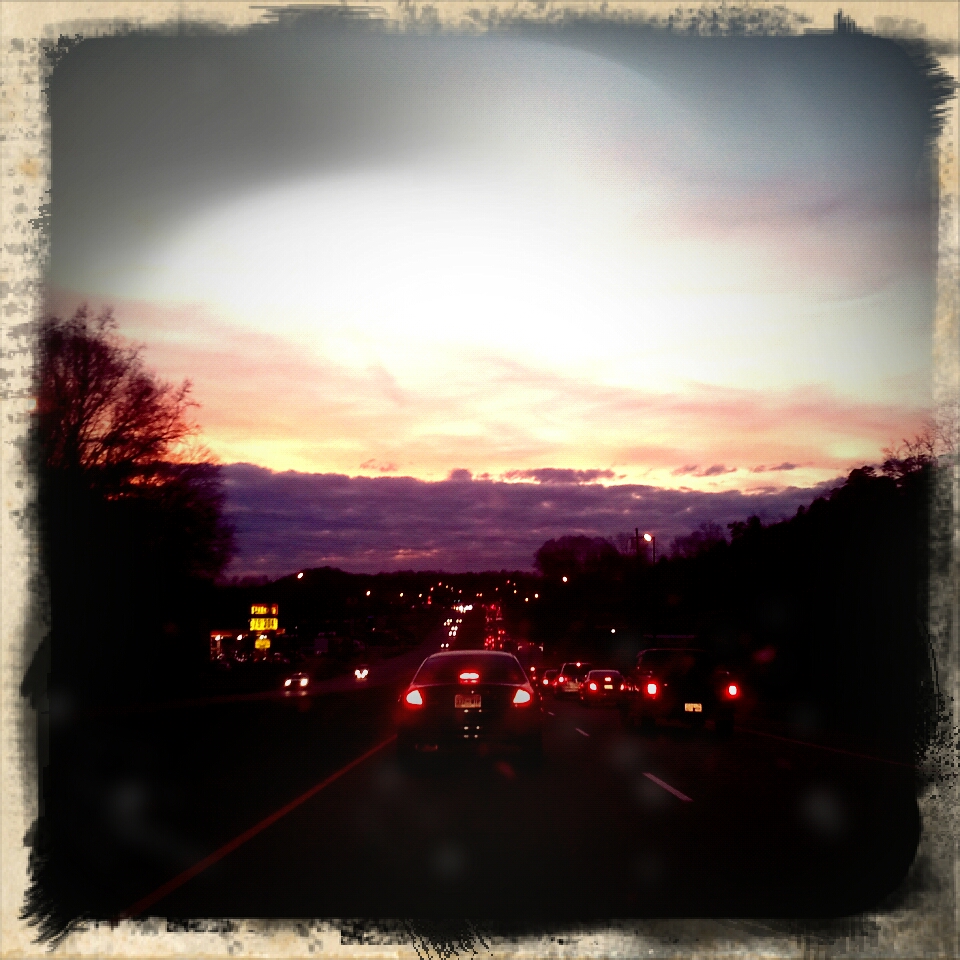 I first heard Mark Silver ask this question and I believe it to be a wise approach to moment-by-moment living.
Sometimes we don't even have to ask the question. The love is obvious. It's in those moments that we are in our bliss and sink into the happiness that is connection.
At other times, we have to work a bit to find it. It may be disguised as fear or some other harder-to-like emotion. The challenge is to ask in those moments of fear or panic or irritation or anger, "Is love available even here?" The sweet reward is discovering that peace and ease and gentleness are available within even those less-than-idyllic moments.
But here's the catch. In order to get into this space — this love-seeking-in-every-moment groove — you have to actually want to be loving. That old "kill 'em with kindness" trick of pretending to be loving while secretly plotting their demise ain't gonna get you there. This adjustment of intention sometimes takes work, but the rewards are amazingly bountiful.
You see, though we think of love as something Out There that we have to go find or choose to share with someone else, fact is that it's not limited to a two-person exchange made popular by greeting card companies. It's what I harp about on Self Care Day on the 6th (SCDot6) and something that you've, no doubt, heard a bazillion times. In case you've missed this particular missive, I'll spell it out here:
You can't love anyone else until you love yourself.
There. I said it. My harping on you to be good to yourself is really my selfish ploy to get you to love yourself so that, eventually, you have the space in your heart to love me. Well, me and anyone else you happen to encounter.
See that picture at the top of this here post? That was taken toward the end of a very long car trip. We thought we were 3 hours from home after making it all the way from the Berkshires to the Smokeys. That is, until the interstate was completely shut down and we were forced onto a little side road. It took us over four hours to go about 20 miles… meaning we still had three hours of travel left an hour after we'd hoped to be home.
We are pretty happy travelers for the most part, but this jam was enough to try even our well-honed patience. As the sun set, I started taking pictures to post on facebook to express our complete frustration at this endless sit-and-wait situation. I'd like to say that I remembered to ask, "Is love available even here?" and that suddenly the clouds parted and the traffic magically cleared and I was happily singing along to Billy Joel in no time. But, no. It wasn't exactly like that.
I did, however, remember to look over at my sweetie and be grateful that I was in the car with someone I actually like. And then this caught my eye: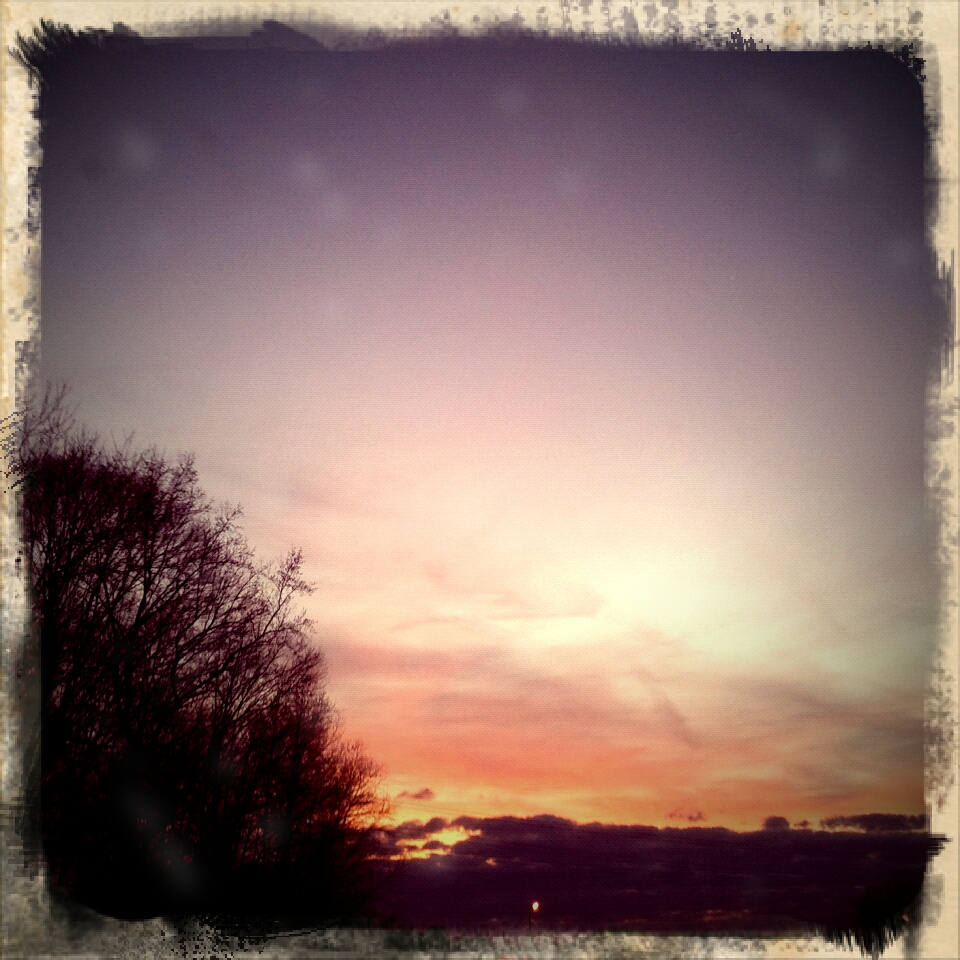 I was so taken with the pretty sky and sun and clouds and tree that, for a moment, I forgot how tired and irritated and desperate-to-be-home-already I was a moment before.The 20-mile line of traffic stopped being my focal point and there it was.
Love.
Here.
I could catalog a million moments when love was right there in spite of the surrounding scenery. Sometimes the only love to be readily found in a particularly hairy event is the scenery. The reality, though, is that love is available even here.
P.S. I got an email asking whether this "seeking love in each moment" practice means we have to love our abusers. I'm not sure I completely understand how we got from asking whether there is love available to us all the way to wondering if I'm advocating that we have to love someone who is hurting us, but I'll play.
On one level, loving everything in its right space is a good thing. I can love even a really, really mean someone in a, "Gee, I can empathize that they are having a rough time" kind of way. But that doesn't mean I have to spend my energy allowing them to beat me up. Some folks would call this version of love "agape" from the Greek.
On another level, if I'm asking the question, "Is love available even here?" I am probably looking for a way to feel authentic and connected and, possibly, in relationship with myself, my source, or another being. That's where the scenery might have to come into play.
The night my life was at the greatest risk the only words that would come to my head were, "Tell me everything will be okay." I don't know who was supposed to tell me this, but wanting to know it was what kept me centered and focused until the incident passed. "I've got to know I'm going to survive this." may not sound like, "Is love available even here?"  but they are closely related.
After the attacker left the room and I caught my breath, seeking something to calm my shaking hands, I grabbed the magazine on the table next to me and opened it to a random page. In bold letters in the middle of the page was the quote from Julian of Norwich that has since become my constant companion.

All shall be well, and all shall be well, and all manner of thing shall be well.
— Julian of Norwich
A day or two later, I was at a conference and someone I sort of knew but wasn't particularly close to said, "I thought you'd like this," and handed me a printout of a short version of Julian of Norwich's biography. And then I walked in to a gift shop later that weekend and saw a candle holder with the quote on it. I, not shockingly, bought it on the spot.
So, my question was answered — three times — and I took that loving assurance to mean that things would work out fine. And they did. And they continue to do so.
So, was the love in that moment from my abuser? Not really.
But was love available even there? I sure do believe it was.
And is.