In an act of appreciation for the hands that make them, I'd like to highlight some of the things — actual physical objects — that bring me joy. I'm not sure how this will work, exactly, but I was sitting here thinking about how much I love this little necklace and I wanted to write about it. So, here goes…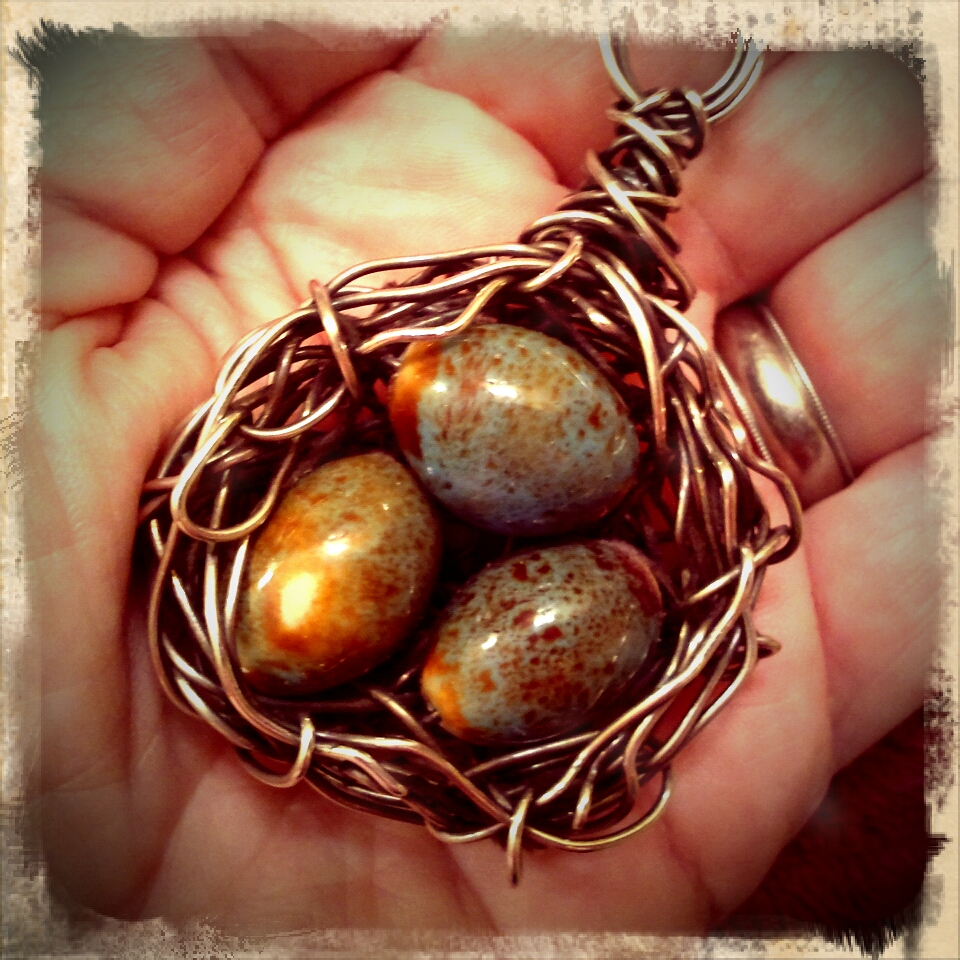 With the exception of books, I am not an impulse buyer by any stretch of the imagination. I tend to be a researcher — studying models and features for weeks before making a decision. Add that to my trending toward the thrifty side, means that even if I really want something, I'm going to watch for a sale.
Case in point: my son was practically walking by the time I made a decision on which stroller to purchase and could push it himself when I finally broke down and bought one.
So, it was a pretty unusual day when I walked into Nest, spied this necklace and purchased it on the spot. It had to be mine. Correction: it already was mine. I just needed to pay for it.
I'm all about handmade items and I love pieces that are meaningful. There's all sorts of symbolism woven into this little nest. I see birth and renewal and promises and family and love. I suppose the fact that I was in mourning when I encountered it made it all the more poignant to me.
Once I got it home, I started the research (Yes, I do all of the steps, even if they aren't in order) on the artist and found Anita Schmadtke on Facebook. Turns out we are practically neighbors, so we met for coffee and immediately hit it off.
Anita spends hours coaxing 14 feet of sterling silver into these little nests, and her sweet energy somehow sticks to the piece in the process. When I needed a meaningful 60th birthday gift for my sister-in-law, I called Anita and asked her to make one especially for the occasion. She graciously agreed and, if possible, the custom one was even nicer than the one I'd purchased for myself.
I love this little nest and wear mine just about everywhere — it's become a signature piece — and get kind compliments on it daily. In a world of throwaway, mass-produced everything, it's delightful to acquire lovely items that were designed and created to be treasured. What a sweet bonus treat it is to grow to know and love the creators of those treasures.
Joy.