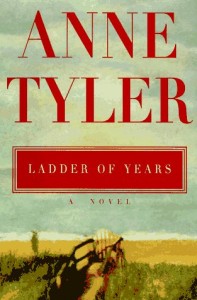 Okay, so maybe I should just plan on blogging once a week and stop feigning shock when a week goes by without an update. I have been wandering around with my nose in books all week. Among my completed works this week are Anne Tyler's Ladder of Years and the latest Harry Potter. Loved Ladder, but no one needs to worry that I am going to pull a Delia Grinstead and run away for 16 months. Potter left me feeling depressed. That may be because I read it in less than 24 hours and need sleep, though. I won't say anything more and ruin it for y'all.
On the fitness front: I managed to make it to workout 25/200 today. Weight is bouncing between 176 and 178 which leads me to speculate a little on my goal weight. Officially it is 149. That puts me in the middle of the healthy BMI range for my height (5′ 9″ish). I am planning to fine tune it as I get closer, and am not particularly attached to this number. However, I can't help but wonder whether my goal weight is my "upper limit" goal (the highest number I see regardless of TOM or day or amount of clothing, etc) or just a number I would be happy to see from time to time as my weight bounces around the general area. I don't have an answer. Just something I am thinking about.
Soap Box of the Day: One of my areas of interest is personality. Various tests of personality have been developed, such as the Myers-Briggs type sorter. (I am an ENFP, in case you were wondering.) I recently came across Dr Dana Spears' work. She has a type sorter of her own which looks at cognitive styles and has an interesting set of theories. I have a whole rant about how misunderstood I am all ready to type out – but I will spare you. Instead, spend the time filling out the Dreamer Checklist and let me know what you discover. It's okay. I'll wait.
I am a dreamer, by the way. But you knew that.