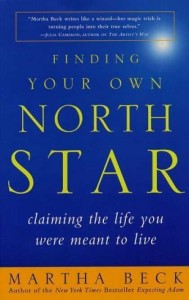 My boyfriend (yes, it is official and exclusive and terrifying and very, very good) bandies about his credentials as a writer–and rightfully so–to the point where I sort of forgot that I, too, have been known to put together some sweet syllables on occasion.
I have suddenly rediscovered my penchant for prose as I have tossed off the yoke of higher education*. (Yeah, I said I put together sweet syllables on occasion. At other times, I put together clashing cliches and hide behind my anonymity.) Without volumes of Kirkpatrick to dig through (love him, but his name comes up every 3rd sentence at Joe's Pretty Good Grad School) I have time for all sorts of writing and–gasp–pleasure reading!
There are 40 books on my nightstand. These are my "get to them soon" books. My book purchasing is an illness that I will never even attempt to overcome. I see a book that looks interesting, I buy it. I read the first 75 pages and then get distracted by another pretty cover. It goes on my nightstand. Eventually I am penniless and want something to read, so I go back to one of the toss offs and re-discover why I bought it. Eventually I finish them all. (Well, except for Jonathan Strange and Mr Norrell which was officially thrown across the room at page 640 and left to be walked on for a week until I finally worked up the strength to pick up the 40 pound doorstop and put it on a shelf. Ms Clarke, get thee an editor!)
Anyway. The pile of books seems to grow faster than my children. Which has led me to discover one advantage to being the only adult in the house; no one else can tell you that you have too many of something! It also means that no one moves your stuff–and if they do they are smaller than you and you can bribe them with candy and stickers to get it back.
Keeping in mind those two things (the getting to keep what you want and it staying where you put it) imagine just how juicy it is to re-discover an entire collection of books that you are absolutely dying to read just sitting there beside your bed and actually having the time to read them!
Are you salivating?
Oh! The titles I am cracking (or re-cracking) this month! Everything from The Fabulous Friendship Festival to The Female Brain to The Field to Finding Your Own North Star. Wait. Those are all in the Fs. Just so no one gets the mistaken belief that my nightstand is organized alphabetically… to The Namesake to Why Moms are Weird (Hi, Pamie!!) to Sex, Time, and Power.
I have had a book-a-day habit since 2nd grade (Hi, Mrs. Williams!!) and just feel so blessed to have continued access to this alternate reality. I am working diligently to pass my addiction on to my kids. I suckered them in with picture books before they could hold their heads up. Then we moved on to reading chapter books out loud on car trips and while they played in the floor with their toys. Once I got them hooked, I taught them the code and now they are reading on their own.
If there is anything any sweeter than kissing my children good night, it is hearing my 8-year-old son say as I tuck him in with a biography(!!), "There's nothin' like a good book."
* Grad school is going on the back burner for the moment. The issues I mentioned last fall have never been resolved and have escalated and the school is in a huge upheaval that won't be settled in my lifetime and I am over beating my head against that brick wall. Perhaps another program at another school will be a better fit. Perhaps I should just get off of my ass and get a job. Hey! I might just do it!!