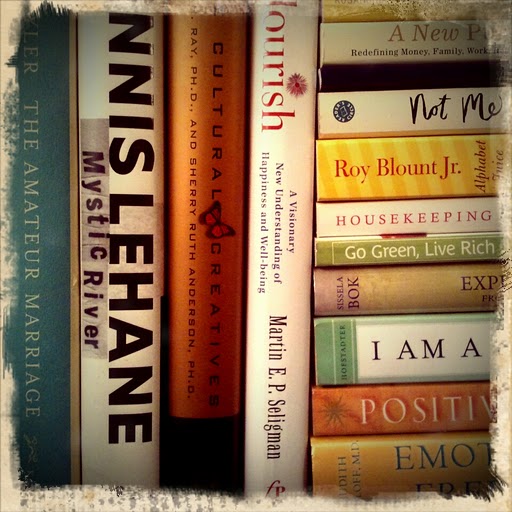 I have a confession. My name is Gina and I'm addicted to printed matter.
Yes, I have an eReader and a cell phone with a reading app and spend an inordinate amount of time reading online, but I still love to encounter words attached to actual paper. I love books — no doubt — and have amassed quite the collection over the years. I'm also very fond of well-written magazines like Bitch and O and the ones that come with my Sunday New York Times.
Yes, I'll confess to that, too. I take the paper. The paper paper. I read the daily Times electronically, but I can't give up my Sunday ritual of coffee and the paper. I won't. I savor them, flipping the crisp pages and map-folding them to the size and shape that allows me to read with one hand free for that cuppa.
The trouble with books is that they are so much easier to buy than to read.
I wish I could remember where I read this quote. Well, I remember where I read it. I was in my studio. But I can't narrow it down any further than that. And looking to see what's on top of the pile doesn't help because there are more piles of books and magazines than would make that practical.
Anyway, the point.
I finished reading Truth & Beauty: A Friendship last night. It was heartbreaking and wonderful and I'll review it soon. But finishing it left me with a conundrum.  What to pick up next? It isn't like I don't have any choices. I have too many choices.
I have at least 20 books in process. I do that — start a book and then see something shiny and then start that, too. I often pick a book back up and finish it months after dropping it for something else. So, is there something in that pile I want to revisit?
There are stacks of books that are the "and this too" group. When I get going with a favorite author or subject, I'll be at the bookstore and see something interesting in the same vein and will grab it to read … next? … later? … ?
Then there are the new, new, new books from my most recent trip to The Bookloft, where I inevitably purchase a dozen titles. There must be something about being away from home and out of my regular routine that deceives me into believing that I have endless time to read.
There are the guilt books, too. I have a knack for being friends with folks who write and always, always, always buy a copy when they publish something. Oftentimes, I love them and read them pretty quickly, but there are a handful that I feel obligated to read that keep staring back at me from the shelf.
The final stack is from our library. I currently have 5 — five — not-small books from our glorious local library. If pressed, I'll admit that there's absolutely no way I'll read all of them before they are due. Truth be told, I'll likely only start one, get super-involved in it just as it's time to turn it in, and then order my own copy. By the time it comes, I'll have moved on to something else and it will end up in the "in process" pile.
So, fie on you, abundance! Choosing reading material is easy, but choosing what to read now is a mix of excitement, dread, anticipation, and overwhelm. Sigh.
Books, books everywhere and not a word to read.
I suppose I'll head to the bookstore.