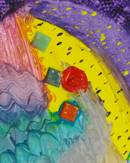 Over the course of several Tuesdays — Transition Tuesdays — I'm sharing one area of my practice that thrills me more than just about anything — coaching individuals with disabilities and their families as they transition from one life stage to another. Please note that while I'll be describing a coaching scenario that is very similar to several families that I've worked with, it is an amalgamation of those conversations and is not based on any one family.
In Part I, I introduced you to Jon, Kate, and Dan and wrote a little about my approach to coaching families through the transition planning necessary to move students with disabilities from high school into an interdependent, adult life.
In Part II, I shared more about my role in working with Jon, Kate and Dan. I also talked some about what it means to be "humanistic" in coaching.
In Part III, I outlined the process and the steps I'm using to walk Jon and his parents through his transition. These steps form the structure for just about any coaching relationship.
In Part IV, we looked at the person-centered assessments I use during the Data Gathering portion of coaching a family through transition.
Today, we're taking a closer look at the PATH tool and discuss how delicious pie-in-the-sky dreaming can lead to some pretty delightful real-world results.
Co-Creating Goals
Whether working with an individual, an organization or a family in transition, the role of a coach is similar. However the style may vary.
In more personal coaching, the aim is often to help clients flesh out their vision of their ideal existence and then develop and enact steps toward that ideal. But it is not up to the coach to direct the content of that ideal; rather, the coach is there to help the client fully describe it and design steps to take them toward it.

–Stober & Grant
One person-centered tool for creating the space for these conversations is the PATH (Planning Alternative Tomorrows with Hope) tool designed by Marsha Forest, Jack Pearpoint, and John O'Brien. The PATH tool was originally used to help folks move from institutional life to community life – not always a move supported by the paperwork and professionals and funding that typically follow this population.
The PATH process involves two extensively-trained individuals graphically facilitating a group through a four-hour conversation encompassing what strategic planners would recognize as a team-based visioning and action-planning session. It also involves a massive sheet of paper (often 4 feet high and nearly 15 feet long!) and colorful markers (I prefer the "smelly" ones). Everyone who gathers is involved in the conversation by one facilitator while a second facilitator draws, scribes, and doodles a record of the discussion billboard style.
I also try to encourage folks to host a meal or snack break in the middle. We all like to eat!
The PATH conversation begins with a vision or the North Star image of what life can look like in a no-holds-barred dream existence. Then the facilitators bring the group back into a "positive and possible" vision of the future. Successive steps involve identifying the realities of now, setting goals for a year down the road, enrolling participants in the next steps and assigning follow up tasks. At each stage the facilitators check in with the group and most especially with the individual in question – in our scenario, Jon – in order to identify how they are feeling, what needs to be adjusted, and that the ideas being captured accurately reflect the goals and hopes of Jon and his circle.
This type of facilitated conversation is steeped in positive psychology. Looking at desired outcomes with "no holds barred" and working back into a "positive and possible" set of stretch goals allow the circle to dream with one foot in reality. Jon and his parents will invite the people who care about Jon – his teachers, friends, church members, pastor, grandparents, cousins, aunts and uncles – to gather for the PATH. Based on the information that has been gathered through the private sessions with Jon and his parents I have some idea of where the family would like to focus their attention – namely Jon's transition from high school into adulthood – and the kinds of things that help Jon have good days. During the PATH, I will facilitate the group's establishing a clear vision of where Jon will be in 5 years – the anticipated length of this transition process – and what it will take to get him there.
Based on our earlier conversations, I anticipate Kate's hesitation on Jon's bigger dreams – moving out on his own and getting a job – while recognizing that the dynamics of creating a circle of support will gently shift Kate's role from that of mother and protector to that of ally and supporter. I also anticipate some hesitation from Dan in joining into the conversation. The typical – though not universal – scenario is that Kate has taken on the default role of advocating for Jon while Dan watches from the sidelines.
The trick to changing this dynamic is to put the focus back on Jon. In similar situations, individuals have declared their mom as their "ex-mom who is my friend" or have thwarted their mom's intention to have them live in the same home forever by suggesting that they, "live a polite distance away" and have drawn their dad into the conversation by declaring that they want to spend time "doing swimming with Dad because he lets me go deep." Emboldened by the attention and support of the circle, seeing their words appear on the large paper, and given the space to express what they really want, individuals with disabilities have an amazing ability to cut to what really matters to them and to get folks on board.
My job is to facilitate the pace of the conversation, to prevent any one individual from taking over or becoming the Voice of No, and to maintain a space of respect and positive regard. The whole process requires mindfulness and self-control on the part of the coach. I have strong beliefs regarding the rights of my clients, but must maintain a neutral stance as I guide the circle to their own conclusions.
At the end of the PATH process, we will have a massive 10-15' long wall chart outlining Jon and his circle's dream for him, a possible and positive vision of where he will be in 5 years, a snapshot of his current reality, a list of the folks who are willing to enroll in helping him achieve his goals, a set of concrete next steps for getting the whole plan moving forward, and consensus on what will keep this group strong and focused on supporting Jon along the way.
In Part VI we'll take a look at what happens after the PATH. As you may recall from Part III, now that we have some specific goals in place, the actual coaching begins!
For folks who like to know more, here are the references from this series:
Brouwer, P. J. (1964). The power to see ourselves. Harvard Business Review, 42(6), 156-165.
Helen Sanderson and Associates. (2007). Person centred thinking. Liberty, Missouri: HSA, USA.
Pearpoint, J., O'Brien, J., & Forest, M.  (1993). PATH: Planning possible positive futures. Inclusion Press:  Toronto.
Peterson, D. (1996). Executive coaching at work: The art of one-on-one change. Consulting Psychology Journal: Practice and Research, 48(2), 78-86.
Stern, L. (2004). Executive Coaching: A Working Definition. Consulting Psychology Journal: Practice and Research, 56(3), 154-162.
Stober, D. R. & Grant, A. M. (eds.) (2006). Evidence based coaching handbook: Putting the best practices to work for your clients. Hoboken, NJ: John Wiley & Sons, Inc.