It is such a fine, fine line between here and there. Two of my very favorite people have been dancing on that line for the last bit. One is hanging on with every ounce of her being. One just teetered over the edge.
I'll start with the still living. Gammy–as my kids call her–was out of my life for 21 years in spite of being one of the kindest people I have ever encountered. I got to reconnect with her this summer when I reintroduced myself to my paternal clan–and we are very early in the rebuilding stages. She went in for "routine"* surgery last week, was sent home the next day, and should have been fine. But she wasn't. I'll spare you the details, but she has been through 3 additional surgeries and tons of trauma (she needed some 6 pints of blood and 4 pints of plasma on Sunday alone!!) and is–amazingly–alive.
How close?? How close did I come to never seeing her again? My sisters and dad are almost speechless with fear and exhaustion and I feel like I am watching the whole thing through binoculars. It is impossible to describe the feeling of being so tightly emotionally bound to people you barely know. I want to gather them in and nurture them–but I don't even know them well enough to have a clue what they would consider nurturing! I am just praying that I get the chance to learn. I almost didn't.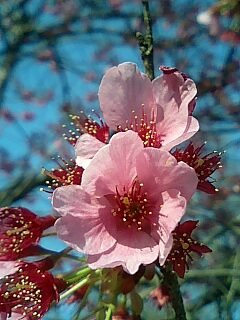 Tracey's mom, Noreen, was one of those women who just gave–and not the leftovers–she gave her best. When I married the wasband, Tracey and her brother were both in the wedding. Now, Tracey is an incredibly talented artist–with style in surplus–who did all sorts of wonders for my wedding. But, as a bridesmaid, isn't that part of the job?
But her mom? Her mom didn't get an official title in the production, but she sure should have. She made Tracey's dress, drove a 15 passenger van full of guests across 3 states (and earned the nickname "Maria Andretti") , assisted with the video, posed for pictures, offered sound advice, entertained the hotel staff, managed to smile the whole time, and then returned that van load safely home.
I can't even look at the pictures right now. It reminds me that I have let some people slip away. I sort of lost some of them in the divorce. I got "too busy" to keep up with others. I missed the opportunity to reconnect with others.
Yeah, I believe in an afterlife–and all the solace that provides–but I am still very, very sad for those of us who will miss her amazing ability to be so casual about what a big deal she was. I am very, very sad that she got away without a goodbye. I had plenty of warning. She fought cancer for a very long time. I thought about calling, sending a card, sending flowers. I thought. I didn't. I let her get away. Shame on me.
*I have always corrected anyone who called surgery "routine." It is routine only for the medical personnel involved. I know there are folks who have lots of surgeries–but I doubt even they consider turning off their bodies, having them sliced open, having things rearranged and removed, sewing the whole package back up, and then waking up to round-the-clock vitals checks as a "routine" part of their day.