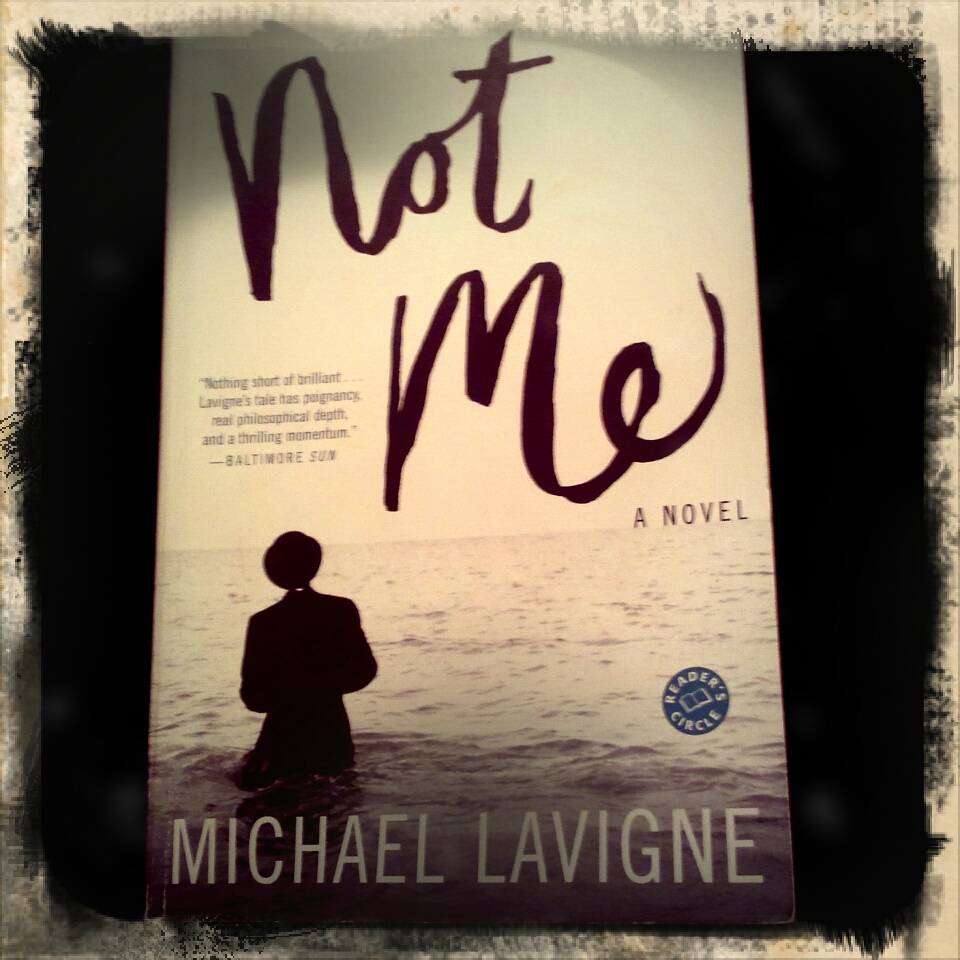 Michael Lavigne's debut novel, Not Me came into my consciousness during lunch at Patsy's with Ned Andrew's Aunt Joy. Aunt Joy truly is a joy and lunch with her is worth a 2400 mile round trip drive. If I had the time, I'd even be willing to walk it.
Anyway, she'd recently read the book and couldn't say enough about it — how stirring it was and how it made her think, really think about some things. She did warn me that there were sections in the book that were very graphic in their descriptions of the Holocaust, saying, "Gina, I had to turn some pages very quickly." Knowing how well-read this octogenarian is, I jotted down the title and promised to look for it.
Fast forward a couple of days. Ned Andrew and I were at our favorite bookstore — the Bookloft in Great Barrington — and among the stacks, I spotted a copy of Not Me. I added it to my embarrassingly tall stack of titles, evoking the strongest of defenses to my wise-enough-not-to-say-anything-out-loud husband, "Aunt Joy told me I had to read this."
Even so, I wasn't sure I could. I do have a special place in my soul for Holocaust literature, but there are only so many gruesome accounts I can read and maintain my sanity. When we got home, I tucked into a bookcase for "later." Well, after my shameful treatment of Bel Canto I felt like I needed to do some literary penance and gingerly selected Lavigne's book from the shelf.
Whew.
This book blew me away. Admittedly, I read it very, very quickly. In 2 days, to be exact. But I didn't rush through any of the pages as Aunt Joy suggested I might. The basic premise is that comedienne Mickey Rose aka Mikey aka Michael Rosenheim goes to be with his dying father only to be handed a box of journals. The journals tell a very different history of Heshel Rosenheim than Michael has ever heard before. His father — reputedly a Holocaust survivor and tirelessly faithful Jew —  may have actually been a Nazi officer who stole a Jewish identity at the end of the war.
The present day scenes are utterly realistic and set in familiar-to-me Palm Beach County, Florida, (though Lavigne insists on calling it "West Palm Beach County" for some reason) which immediately made me feel like I was in a safe space. This helped as the stranger and more disturbing elements of the story ripped me from my moorings. I appreciated Lavigne's careful building of Michael's current reality in a book where the historical detail is so heavily researched and crafted.
The historical sections are beautifully written, though gruesome — as they should be. Heshel's narrative of the past (told in third person, so you're not sure whether they're truth or fiction) delve into some of the more horrific aspects of Nazi Germany, seething prejudice, and the results of the dehumanization of an entire population. Just when you think you are beyond the worst of it, Heshel moves on to the battles to establish Israel within Palestine. There is no respite here.
The whole journey is woven together in a compelling back and forth between the two time periods. Lavigne manages to maintain the pacing throughout and offers some sweet pauses among the more disturbing stories.
If I had one complaint — and I do — it was Lavigne's insistence on the overuse of similes in Michael's narrative. They are littered around the book like pizza boxes the morning after a frat party. I actually started to read the following sentence out loud to Ned because it was so well said… until I hit the "like" and then I just groaned.
I stepped out into the parking lot and a herd of mosquitoes instantly materialized on my arms and neck, like pigs around a trough.
Oh well. It's probably only bothersome to me. The ever-amazing Michael Chabon uses similes, too, but I get irritated with him because he'll pick some seventy-five cent word and use it eleven times in the same book. The first 2 or 3 times, it shows how clever he is. The next half dozen or so demonstrate that his editor loves him too much to say anything. Ah, but that's for another Wednesday.
In the balance, the book is a thinker. It poses some pretty deep challenges to our assumptions about good and bad and evil and redemption and identity and guilt and family and forgiveness and horror and empathy. I don't know that it offers answers, but I wasn't expecting them.
Thanks, Aunt Joy, for the suggestion. I can hardly wait for our next lunch date. Get us a table and save me a slice!