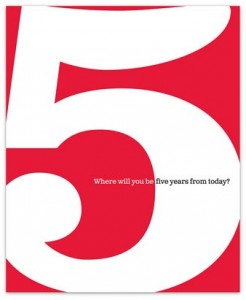 I am a chart-the-course junkie, so Dan Zadra's book is right up my alley. 5: Where Will You Be Five Years from Today is very similar in nature to other coaching-by-book volumes (see: Martha Beck and Stephen Covey) in that it asks you to identify those things that are important to you and points you in the direction of achieving them.
The one thing going for this version of that well-known exercise is that it is presented workbook style in about 60 colorful, big-print pages. If you are not one to slog though theory and background, and just like to get to the point and get moving, this might be the format for you.
The downside of many self-coaching books is the lack of accountability to another person. No matter how gorgeous and worth-while the exercises, many people do better with someone to hold them to their promises. Zadra attempts to overcome this inertia by creating a volume that is visually pleasing as well as chock-full of encouragement in small bites.
Zadra's graphically-exciting book may also be a useful volume for coaches and therapists to share with clients as "homework" as they go through the process of looking at Values, Mission Statement, Life Balance, Goal Setting, and Stretching.
As someone who enjoys the theory behind the go-get-em, this wouldn't be my only goal-setting book on the shelf. But for folks who love to collect them or who would like a straight-forward workbook for inking their visions, this work is worth a look.