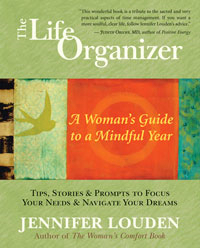 A couple of years ago I picked up a book called The Life Organizer: A Woman's Guide to a Mindful Year by Jennifer Louden. I loved the pretty cover and the full-color pages filled with thoughtful ways to redefine the traditional day planner method of organizing days and weeks into a more organic, soul-flowing method of structuring my life.
The reality was that my time was not my own. I half jokingly told people that I wasn't allowed to write on my own calendar. The department where I worked expected me to book their meetings first, other department meetings next, and somewhere down the list I was allowed to squeeze in my family's needs. My needs weren't even on the radar. Lunch was often a package of crackers on the elevator. How in the world was I going to shift from this hyper-structured, out-of-my-control life to basing my days on "what experience or feeling do I yearn for today?"
It felt like I was standing in the arctic circle longing for a beach vacation. The divide seemed uncrossable.
Fast forward two years.
In this time, I have made some changes. That job is a vague memory. I still work in the same field — working toward an inclusive community where people are beloved and honored for their many assets and supported in those areas where they struggle — but in a very different capacity.
My days are my own.
Sure, I still have schedules to follow — dropping off and picking up children, appointments, meetings, and deadlines — but there is a more organic flow to my days. I work from my home office overlooking nearly 7 acres of trees and grass. I allow margin in my days. There is time to think and read and study and prepare for those deadlines and meetings and appointments.
I am less available but more present.
Thanks, Jennifer, for sending the map to a way of life I didn't even know was possible.
It is bliss.