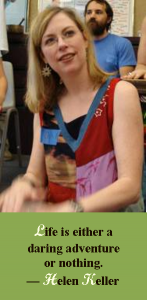 I've been "online" since sometime around 1992 when a tech savvy boyfriend gave me a 386 with a modem and BBS phone number. I chatted with folks about music and movies until I discovered a group that was dedicated to discussing interventions for a variety of health concerns. Nearly 20 years later, I've replaced about a dozen computers — the latest of which cost less than the 4 MB memory upgrade to that 386 did two decades ago — started several websites and blogs, watched service providers come and go, connected with folks on Twitter and reconnected with others on Facebook.
I've also gone through my share of changes. That boyfriend went on his way as did I. I married and divorced and married again. I've given birth to two kids — while losing three others — and earned two bonus daughters through my second marriage. I've moved more times that I'd like to count and have settled in my dream home with my soul mate just south of Nashville, TN.
I've gained weight and lost it and gained it back — sometimes because of those pregnancies and sometimes because of less specific causes.I blogged the largest of those losses on the MegaChallenge 200 about 5 years ago.
I've gone back to school … three times … taken courses in everything from coaching to statistics to history to leadership to rhetoric to psychology to training to management to marketing and back again. I discovered my passion — guiding folks through transitions using person-centered conversations and graphics — in 2001 at a PATH training offered by Dave and Faye Wetherow. I added some of the stuff from The Grove and Helen Sanderson and sundry other smart-thinking folks to my tool kit. I then found Christina Merkley's SHIFT-IT Graphic Coaching process and fell in love. Several years later, she trained and certified me to walk folks through her tried and true process of creating positive change. I added other tools and ideas along the way… and then practiced and tweaked and practiced some more.
I wanted a place where I could share what I know and hope to learn with folks. The "online" complement to my really real existence. A launching spot for my other projects and connections that aren't limited by a catchy URL. What defines my online presence? Well, hopefully it's my offline reality.
And that brings us to now.
With the help of Robert Owen — someone who has known me even longer than I've been online, amazing as that may seem, and who entered my life about the time I bought my first issue of Byte magazine (so… 1982ish) — I'm finally overcoming the "it's conceited to have a website with your name on it" Golf Whispers and launching www.ginalynette.com. I'm me. This site is mine. It'll contain things that I like or feel are important or can do. Whatever that happens to include.
So, what's next?
Hopefully more growth, additional connections, and new insights — all while standing firmly on this foundation of purpose and joy that I've built across the first 40 years of my life.
Welcome!
If you've known me for most of those 40 years, you know that I'm all afire about positive and possible and pointing forward. If you're just coming into my milieu now, you'll find I'm a warm-hearted idealist who tends to get folks moving even if they didn't mean to.
Let's go!